Environment´s information
To walk: Peña Isasa, GR-93 (Enciso-Cornago), beech tree of Poyales, Isolated Villages
By car: Navalsaz-Enciso: Sites of footprints and dinosaurs, paleontological museum, Arnedillo: spa, thermal puddles, Green Way, Viewpoint of the Vulture, Yanguas: Medieval Villa, Arnedo: Shoes museum, Columbarium (caves), churches Saint Cosme and Saint Damián, Castle.
Navalsaz
It is located six kilometers from Enciso, in the hill of a cliff in the valley of Cidaco that it is a territory that highlights touristically because of the different itineraries of the Route of the Dinosaurs. In the municipal term of Enciso there are 1.400 dinosaurs' footprints catalogued. In the track from Enciso to Navalsaz there are 7 sites, and in some of them there are sculptures of real size of some dinosaurs. Besides, the biggest footprints of the area are located in Navalsaz, where there is also a theme park about the dinosaurs, called "The lost cliff (el barranco perdido)". Pine forests, beech forests, holm oaks and cliffs build the natural environment of Navalsaz, what promote routes for walkers and the searching of mushrooms. Also the people go to listen and to see deer during the bellow. The typical houses are of stone, and there is a sink and two churches in the village.
WHERE TO GO

Ruta de las Icnitas
En el término municipal de Enciso hay catalogadas 1.400 huellas de dinosaurios. Es el punto de partida para visitar las huellas, a partir del Centro Pelenontológico. en el trayecto de Enciso a Navalsa...

Alto Valle del Cidacos - Arnedillo
El Alto Valle del Cidacos tiene en la localidad de Arnedillo, su máxima expresión. En este bonito lugar podremos disfrutar de impresionantes paisajes, y de las mundialmente famosas aguas termales. La ...

Castillo de Cornago
Al llegar a Cornago sorprende la belleza del conjunto formado por el castillo y el templo parroquial, pero una vez en el pueblo llama la atención la reconstrucción de las viviendas y cómo esta urbaniz...
UPCOMING EVENTS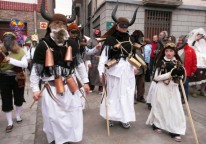 Carnaval Tradicional Riojano
En Enciso, del 21 al 22 de febrero
Enciso celebra su carnaval en el que se recuperan disfraces ancestrales que desfilan por las calles y se hace una cena popular y quema de los judeses.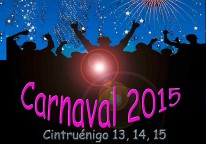 Carnaval de Cintruénigo
En Cintruénigo, del 24 al 26 de febrero
Viernes tarde: Lectura del pregón hacia 19:30h.y tamboreada. Sábado: salida de los zarramusqueros hacia 17:00 (durante 1 hora los zarramusqueros manchan a todo aquel que no vaya disfrazado) Domingo:...
Día de la tostada
En Arróniz, 24 de febrero
¿Hay algo más saludable que empezar el día saboreando una rica tostada con un chorrito de aceite de oliva virgen extra? Seguro que encontraremos alguna alternativa pero... ¿con un aceite "divino"? Ahí...